Do you watch SportsNation on ESPN2? If not, you might want to start today. That's because TailgatingIdeas.com will be featured as the SportsNation Site of the Day. Watch today at 4 PM eastern (That's 1 PM pacific for you on the west coast) on ESPN2 for the shout-out coming from SportsNation.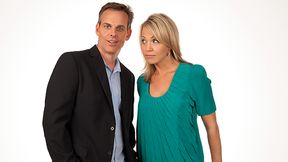 Hosted by Colin Cowherd and Michelle Beadle, SportsNation is a new show on ESPN that delves into the lighter side of sports often making fun of athletes, franchise owners and most often themselves, esspecially Colin. SportsNation is active on all type of social media including Twitter (@SportsNation) and both Colin Cowherd (@ESPN_Colin) and Michelle Beadle (@ESPN_Michelle) tweet as well. SportsNation has a ton of viewer and fan interaction and is a high energy show to sit back and watch the fun unfold. (I actually watch the show and I am not just saying that because they will be mentioning TailgatingIdeas.com today.)
Check it out today at 4 PM eastern time on ESPN2 and look for TailgatingIdeas as the site of the day.
Thanks SportsNation!