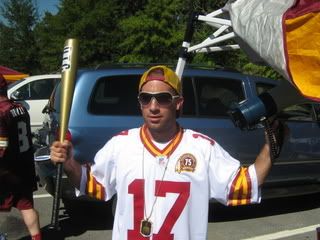 Love him or hate him, you have to admit that when you think of the Mayor of FedEx Field and the Dead Tree Crew, you immediately think of tailgating. The Dead Tree Crew (the DTC as they have abbreviated it) has been the subject of write-up in Deadspin, Mr Irrelevant, videos on YouTube and in January the DTC was the opening feature on HBO Real Sports with Bryant Gumble. The Dead Tree Crew's tailgating style may be controversial and their reputation is not always the kindest but it is undeniable they have a passion for the Washington Redskins and tailgating.
I had the opportunity to sit down and chat with one of the leaders of the DTC, Chris Ferrarese, who calls himself The Mayor of FedEx Field. In this exclusive interview, The Mayor was in Canton, Ohio for Hall of Fame weekend and discusses why the DTC dislikes Eagles fans the most, the fallout of being the focus of an HBO piece and how he envisions himself wearing a pig nose and a flowered dress five years from now.
Tailgating Ideas: How did the DTC get its start? Were you all big fans of the Redskins and decided to form a tailgating club or did you meet other fellow tailgaters and then formed the DTC? Exactly what was the genesis of the DTC and how did it start?
Mayor of FedEx Field: We started in 2001 and our first tailgate was a game against the Chiefs. (The terrorist attacks of) September 11th happened and we had to have the game moved. Our first game was against the Chiefs and we started off with Fox 5 and we tailgated under a dead tree and the rest is history.
Tailgating Ideas: How did it grow to the size that it is today? It's now the size where you have been the focus of TV programs and sports blogs will make mention of you and your group. How did it get to that level?
Mayor of FedEx Field: Anytime you mix good looking girls, the Redskins and lots of alcohol, it just becomes a very popular thing. Word of mouth has spread the word. As you said, the television shows and online venues all focusing on how we do things and how we do it different. Then you have the other aspect of the all the different opposing fans hating us because we won't let them tailgate there. The word gets out and it makes you pretty well known.
Tailgating Ideas: Let's touch on the fact you guys bring a megaphone and an aluminum baseball bat to FedEx Field and will harass opposing fans to the point where they are forced to park in other areas of the parking lot. Some of the critics will say that tailgating is an activity where everyone is welcome and everyone shares. Kind of like an old time neighborhood. What's your reaction to your critics that say you and the DTC are a bit more adversarial towards opposing fans and create a hostile environment?
Mayor of FedEx Field: I don't think tailgating is defined by what you have to do. I don't have a rule book on tailgating and I don't ever expect to see it. As for our theory on not letting any opposing fans in, we protect FedEx Field. We want Redskins fans to come. We don't want Philly fans, Raven fans, Cowboys fans pushing their way into our stadium and taking it over, singing their songs and chanting their teams. This is FedEx Field. That is not going to happen. Not on the DTC's watch.
Tailgating Ideas: Do you guys venture away from FedEx Field for Redskins road games? If you do, what has been your reception when you do travel? Do you get a harsh reaction from other teams' fans much like you give Philadelphia or Dallas fans?
Mayor of FedEx Field: We've been to Tampa for the playoff game a few years back. We were well received. It was pretty much all Redskins fans that were tailgating up there. We are in Canton, Ohio today. We see a lot of opposing fans whether it be Bears fans, Rams fans and of course Cowboys fans. I'll be honest with you. Over here in Ohio, there are a lot of Steelers fans. But we haven't seen an Eagle fan yet.
Tailgating Ideas: Speaking of Eagles fans, we all know that anyone in the NFC East is considered a major rival just by virtue that the Redskins play those teams twice a year. It seems as though the DTC has singled out Eagles fans as the ones you dislike the most. You guys even made a YouTube video about punching Eagles fans. What makes the Eagle fans the most annoying to the DTC above and beyond all the other fans of rival teams?
Mayor of FedEx Field: Cowboys fans are idiots. They don't know anything about their team and they are no challenge. Giants fans… I suppose we'll see a lot more of those now after the Super Bowl win. Eagle fans I will give them a little bit of respect. They come to the games, they come to the away games, they don't back down. They are really the only challenge we have. Ravens fans also deserve some respect. We are going to invade M&T Bank Stadium this year. I think Ravens fans are the only ones that really give us any trouble. When we play the Falcons or the Cardinals, we don't see any of those guys. Detroit Lions? I haven't seen any. Eagles fans are all over the place and they run their mouths. They have no Super Bowls but they decide they want to talk like they do so the DTC has to remind them.
Tailgating Ideas: I know the Dead Tree Crew has been ramping things up and making tailgating bigger and better each year. What's on tap for 2008 and what can fans at FedEx Field expect out of the DTC this year?
Mayor of FedEx Field: Already this year we were the first ones on scene at Redskins training camp. We will be the first tailgaters tomorrow when the Redskins play the Colts in the Hall of Fame Game. We plan on being the first ones at the Saints game. We are going to throw a few different things in the mix. We have got different cones for this year. New sounds system and new grills. You know it is hard to outdo ourselves every year but we kind of just do it on the fly. This year is no exception and we are working on bringing it up past the 2007 level. We ended last season on HBO and we are going to start this season on ESPN.
Tailgating Ideas: Speaking about the HBO Real Sports piece, they chose to open the segment with the Dead Tree Crew. In my opinion it seemed that the HBO show was geared towards being a negative piece to showcase the darker side of tailgating and alcohol consumption at NFL games. What's been the fallout since that segment aired? Have people used that show against you to criticize you or does the old saying 'there is no bad publicity' hold true and it has helped the DTC gain popularity?
httpv://www.youtube.com/watch?v=CJScIxpTrm8
Mayor of FedEx Field: The negative had to be that my boss on the Monday after the show aired; coming into work he didn't like it too much. Other than that, the reaction was mixed. People don't like us as it is. They have already judged this book by the cover. All we can do is keep being us. If us being as cool as we are and that helps change their opinion then so be it. We are not going to go out of our way to change someone's opinion but give us a chance. We are a bit misunderstood. From that HBO piece the reaction has been mixed. Yesterday we were hanging out with over 200 Redskins fans and a lot of the people were saying, 'You are the guys that were on HBO, the drunks'. We were also called the hardcore Redskins fans. I get hate mail to my mail account everyday. A lot of those emails stem from the HBO piece.
Tailgating Ideas: Speaking of being on the computer, you recently dove into the world of blogging. You are live blogging and chronicling your trip to Canton, Ohio for this weekend's Hall of Fame festivities. What prompted you to get into blogging and the desire to get your opinions and your voice out there on the web?
Mayor of FedEx Field: I'll be honest Dave; 365 days ago I didn't even know what the hell a blog was. Being the subject of one and being forced to comment and defend the DTC on blogs; a lot of people told me I had a unique and interesting writing style and I should start my own blog. With a full time job plus the DTC activities there is not a lot of time on my hands but I found the time to do it and I enjoy it. And it is not all about the DTC and it is not all about the Redskins. It's about The Mayor himself. I hit all sorts of subjects whether it is Redskins tailgating or even sex offenders. There is a good mix in there. I started live blogging yesterday when we came into Canton and I am going to continue live blogging the entire trip and throughout the season. It's not just DTC stuff but I will hit on all sorts of subjects. Stayed tuned, it is F-51.blogspot.com. The title of the blog is The FedEx Field Führer.
Tailgating Ideas: We all know that tailgating has evolved into a competition of gear and supplies and people trying to impress other people with all their tailgating gadgets and toys. What's the one thing you and the DTC has to have on site at FedEx Field or it is not a DTC tailgate and it is not complete?
Mayor of FedEx Field: The freshly painted DTC road cone. It starts with the cone and it ends with the cone.
Tailgating Ideas: Give me the history on the road cone and how it has come to be an integral part of the Dead Tree Crew?
Mayor of FedEx Field: The short story of the cone was from our first tailgater in 2001. The CEO of the DTC had a lot to drink and said, 'watch this' and proceeded to grab a dirty, orange road cone from the parking lot. He ran up the hill to the dead tree and started chugging beers out of it. Everyone started cheering him on and we all looked at each other and said, 'this is awesome' and this is what we need to do. For the first few years we would use the road cone that was at FedEx Field. It was convenient and it was there. Now we go ahead and we buy new ones and we paint them. It is a three step painting process. We then bring it to the tailgate and whoever drinks the most out of it gets to keep it. I'll also add that whoever drinks a beer out of it gets to sign it. You'll get a nice collection of names on it by the end of the tailgate. Some of the names that have signed this cone here in Canton, Mike Sellers of the Washington Redskins has signed this cone. Jim Zorn has signed this cone. Hey, I can't say if they had a beer out of it or not but you know the rules. You have to chug a beer out of the cone to be able to sign it. So, there are some nice signatures on this one.
Tailgating Ideas: Are there other traditions or understood rules in order to go tailgating with the Dead Tree Crew?
Mayor of FedEx Field: The Arena Drive tailgate starts with Crown Royal. That's how we get started. We do it right in front of the police and right in front of the Redskins security. They know how we roll. They don't have a problem with it. First game of the season we have traditionally been serving the Redskins burgers. It's a hamburger made with filet, three types of cheese, bacon and mushrooms. Anytime we play the Eagles we make Redskins steak and cheeses. That's a play on the Philly Cheese Steak but we surely aren't going to call it that. That starts with a rib eye sautéed with red and gold peppers, mushrooms and onions. It really is a play on their steak and cheese but it has nothing to do with Philly I can promise you that.
Tailgating Ideas: Where do you see not just Dead Tree Crew tailgating going in the future but tailgating as a lifestyle next year, five years and ten years from now evolving into something beyond what it already is?
Mayor of FedEx Field: Wow, that's a pretty good question. I see tailgating going in the same direction I have seen it go in the past eight years. I have seen it getting more and more popular with all ages getting involved. I've got 12 year olds singing 'Hail to the Redskins'. I've got 90 year olds singing 'Hail to the Redskins'.  When we get there in the mornings I've got an older gentleman that has been tailgating at RFK for 25 years before they even built FedEx Field. He's out there with the DTC. We even have some newer fans that just turned 21 that are just taking their first cone bong and getting their first experience of football. We only have eight or so of these a year. We have to make them special. As far as I see myself doing this in five years? Last night at the Buffalo Wild Wings here in Canton I met Stephette. The only Hoggette from New York. I think in five or ten years that's going to be me.