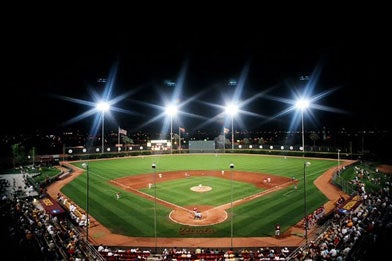 Look out Tempe, Ariz., the TailgatingIdeas.com staff a friend and I will be headed out to Packard Baseball Stadium this week for some baseball and tailgating. The Cal State Fullerton baseball team is taking on Arizona State in a two-game non-conference series match-up between two highly ranked programs. Fullerton entered this past weekend ranked No. 1 by Baseball America and Arizona State was ranked No. 3. This series could easily be a preview of two teams set for a collision course to meet again in Omaha, the home of the College World Series.
The great baseball in store for us aside, we are loading up the SUV, attaching the Freedom Grill FG-50 and packing the beer pong table, N-Ice Rack, The Beer Belts among other tailgating essentials and we will tailgate both games to the fullest extent. We already have a Tri-Tip marinating in some Stubb's Beef Marinade and brats are coming with us too. Of course the beers will be icing down on the five hour drive from So Cal so they will nice and cold by the time we park and set up.
Seeing how this is our first time out to Packard Stadium, if there are any locals or veterans of the tailgating scene for ASU baseball, feel free to drop us some of the ground rules in the comments section below. We would hate to show up and start to tailgate assuming something is allowed, i.e. glass bottles, only to find out it is a big time no-no there. No matter what, keep up to date on the progress of this tailgating trip by following Tailgating Ideas on Twitter. We'll be Twittering from the moment we pull out of the driveway and you can even get visuals of the trip through photos on Twitpic.
Here's to a great road trip and some awesome tailgating upcoming.