There is much debate ballyhooed about the real name of the game. Some contend it is called Beirut and Beer Pong is played on a ping pong table with paddles. Other say Beer Pong is the correct nomenclature. Whatever you call it, the Bombed Complete Beer Pong Beirut Kit will make it easier to play at your next tailgate party.
This complete kit comes with two racks, 22 cups, three beer pong balls and a rule book so no one is arguing the rules over bounced shots. Just pick up one of these kits, find a flat surface, you provide the beer and your are playing beer pong, or Beirut, or whatever the hell you want to call it. (Just get out there and sink a shot and stop debating it.)
One of the cool things about this kit is that you can fill up all ten cups right from a keg at the same time. No more running back and forth filling up each individual cup. Think of it as a serving tray where you hold it in one hand and dispense the draft beer with your other hand. The rack also prevents those uneven, sloppy racks and provides a sturdy base to prevent tips and spills from line drive shots. (ease up on the 'roids there Canseco.) Maxim magazine has called this kit "nius" and it was listed on the front page of the New York Times. Oh yeah, we also think it is pretty neat. Does that make us as cool as those previously mentioned publications? Doubtful, but it's worth a shot.
Click on the image below to get your own.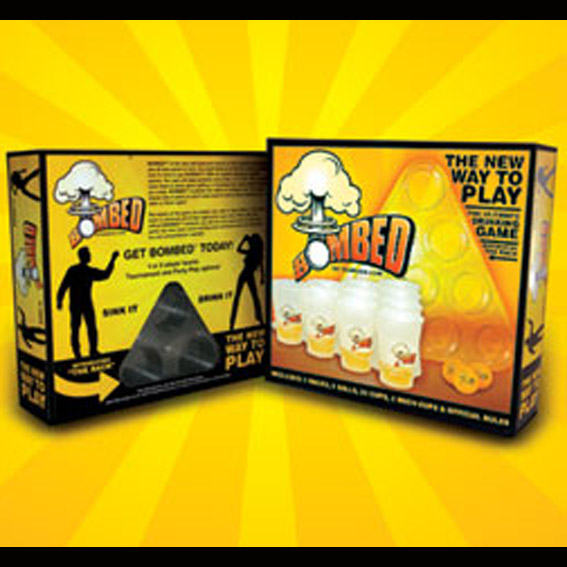 Bombed Complete Beer Pong Beirut Kit