What would you give to be able to travel to any college football tailgate party, every weekend of the season? Now imagine that Sports Illustrated not only will pay you for it but will give you a camera crew and full license to poke a little fun at the tailgaters you encounter in the lots. That's exactly the life Dan Rubenstein, a.k.a. the SI Tour Guy, leads. A man that admittedly did not know much about tailgating until he went to college, Dan has probably seen it and eaten it if it has appeared at a tailgate party. In this exclusive interview with TailgatingIdeas.com, Dan dishes on how he landed this dream job, which colleges have the hottest co-eds and reveals his own bucket list for tailgaters.
Tailgating Ideas: How did you become the SI Tour Guy? Were you doing this for another website and Sports Illustrated picked up on it? How did it come about that you are now traveling from tailgate party to tailgate party talking to fans and putting together humorous videos?
Dan Rubenstein: I originally was doing it on my own. What happened was I was working as an assistant for a movie studio. I was just really bored and checking my fantasy team everyday.
I'm really into comedy and everything like that and it just sort came out of daydreaming and I put together the idea. I love college football and I love comedy. I had never really tailgated before and I was never really a fan of college football growing up because I live out in L.A. and it was always UCLA and USC. I really don't have any connections to those schools. When I went to the University of Oregon it was just a whole new world to me. When I graduated I worked a little while down here (Southern California) and I came up with the idea and really had nothing to lose. I stayed local and funded it myself and I drove everywhere and just filmed. I went to the University of Oregon journalism school so I can edit and shoot it myself. I have friends who would help me out. That was around 2006 and I visited seven Pac-10 schools. The response was good and people seemed to like it. I decided to send it out everywhere on DVDs and made a highlight reel. I got a hold of Arash Markazi, who writes for SI.com, and he really seemed to like it. He passed it along to important people at SI and they really seemed to like it. Sort of a partnership was formed and they allowed me to produce the similar type of videos but on a national scale. I'm pretty lucky because this is a dream job really.
Tailgating Ideas: Before you got picked up SI.com you said you were funding it on your own. Now, I'm not going to ask for receipts or anything but how much out of pocket expense were you putting into this in hopes of landing a gig like the one you have now?
Dan Rubenstein: Like most people who graduate college, I was living at home and I was working but I wasn't paying rent. My expenses weren't huge and I did UCLA and USC and those are about 35 minute drives. Other places I went I was able to stay with people I knew. I knew people in Oregon, we have family friends who live near Stanford. I knew a girl at Cal who I stayed with. Honestly it wasn't too bad. It did get up there but I really thought it had promise. I stayed in one hotel the whole time I was funding this on my own and it was Motel 6 in Tucson, Ariz. That set me back about 65 bucks. It wasn't too horrible. It was definitely a leap of faith but then again I really didn't have any expenses living with my parents. They have been great and supportive and I didn't have to pay rent and I put my money towards this.
Tailgating Ideas: Now that you are the SI Tour Guy and tailgating is essentially your job, what is a typical work week for you?
Dan Rubenstein: Usually it is a night game and we get done shooting during the game. We shoot a little on the field to get a little in stadium atmosphere. We watch the game and then we'll go out Saturday night and sort of enjoy what the local town has to offer as "research". It typically includes going to the local bar and having fun with the local college students. We fly back generally way too early Sunday morning and I get home, and because it is normally an east coast game, usually Sunday afternoon.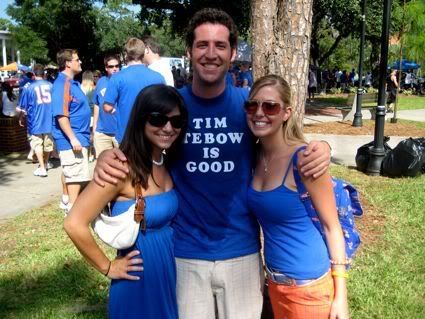 I'll start importing footage and have everything imported and maybe I will have edited the intro compilation Sunday night. Monday morning I'll wake up pretty early and I'll edit through the day from 8 am to 2 pm just throwing everything together. I'll look through every single question I have asked every single person to find the best responses and my most clear questioning clips. I'll get SI a rough cut by around 3 pm pacific time to a number of different people at SI Video and the administrative SI people. They'll give me notes on whether we can use this or that. Usually it is just trimming back a certain clip for time purposes. To their credit they are really hands off. I then give them a final cut overnight so it is waiting for them when they get in the office in the morning. I'll then write the photo blog that I write for SI and I also update my own site. It (the video) generally goes live Tuesday morning which is fantastic. The turn around is great. The rest of the week is my weekend so to speak but that is also the time when I do research for the next week's game. I'll learn about all the traditions about the two schools and coming up with questions and writing. It starts all over on Friday when I fly out and try to get somewhat of a good night sleep Friday before an early shoot generally. From there it all starts over.
Tailgating Ideas: Who determines which games you are going to attend the following week?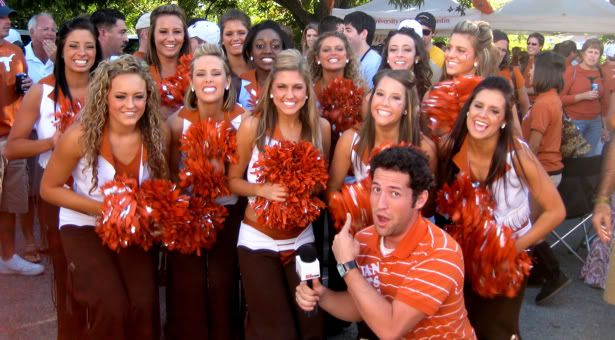 Dan Rubenstein: In the beginning of the season I came up with a schedule. Last year when I was in New York, I met with SI in New York, and we came up with a schedule while there that seemed to work for both me and them. This year I came up with a schedule that looked ideal to me to go to different conferences and different parts of the country. It's tough because I am a Pac-10 guy. I went to Oregon. I've done so many of the Pac-10 schools already before SI so I wanted to give the viewers sort of a new look. Me personally, I wanted to see new places because that is the point of it too. I wanted to see all these different types of tailgating situations with meeting people on game day. I did come up with the schedule and I sent it to them and they had no problem with it. I'd like to sort of vary it in the future if things were to continue. It really is sort of a very easy process.
Tailgating Ideas: When it came to deciding on the schedule for the year, did you tend to gravitate towards a particular conference or was it just based on match-ups?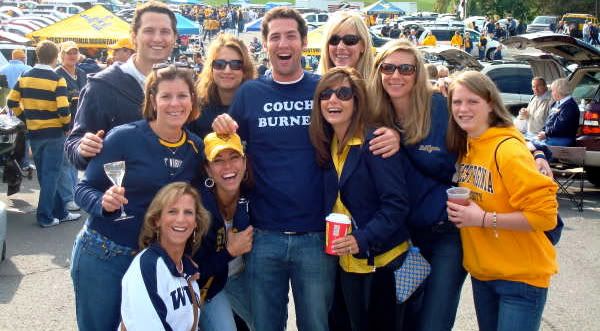 Dan Rubenstein: It was somewhat based on match ups because people are generally more excited for bigger games. I unabashedly love The South. It's not to say that I think the SEC is a better football playing conference but it is just a spectacle in the SEC. I would say a little bit of the ACC and the Big 12 as well. Going to Georgia or Alabama or LSU, it just seems like everyone is so happy it is Saturday. They pull out all the stops. The girls are all in sun dresses and the guys are in button down shirts and ties. It is such a marvel that is a southern football game day. It is hard not to gravitate towards that.
Tailgating Ideas: You mentioned that you really weren't into tailgating and the tailgate lifestyle until you went to school at the University of Oregon. What is it about the tailgating lifestyle that now appeals to you that you devote four months of your life each year traveling around and sampling tailgating all over the country?
Dan Rubenstein: I've always loved football even at an early age. I never knew that in college football it is not just a game. It's an all day thing. It's a party before, it's during, it's after the game is over. The community of tailgating is amazing. People are coming from all different parts of the state. Some people just know each other just through tailgating. That's really just a wonderful thing to see and be a part of. You talk to some of the older people that have been there 40, 50 or 60 years and it is just that they live for this stuff. It is really a wonder to be around that type of environment. It's the food and all the different types of tents and the creativity of people with blenders powered by motorcycle engines. It is really just a crazy party that I had never been exposed to but I just wanted to explore it. There are so many unique customs everywhere it really seemed endless the possibilities.
Tailgating Ideas: You've seen tailgating from all the major conferences like the Big 10, Pac-10, Big 12, SEC, ACC, Big East. What would you say makes the perfect tailgate party? What are the essential ingredients someone needs in order to have a killer tailgate?
Dan Rubenstein: First of all, I am big food guy. You have to have a chef that really takes it seriously. Burgers and hot dogs are fine but everyone makes burgers and dogs. Right off the bat if you have a giant smoker and you are making brisket or shrimp or whatever, that makes it great. When people go all out with the way they dress and the more creative decorations they have, that always makes it fun. You can always tell when people are having fun. If your party is let loose and it is comfortable and people are joking around, it is the right mix of people that is the best thing. The perfect ingredients is a long litany of answers but it all starts with the people. If you get the right mix of people that always makes it the best. I love the Cruizin' Coolers and all the other creative stuff like that. If you get a good mix of all the ingredients mixed together, that's kind of a weird answer, but I think that is what makes it all a good show.
Tailgating Ideas: What makes your job the most difficult?
Dan Rubenstein: My personal job is difficult when people take their teams a bit too seriously. I try to roast the teams of the people I meet to get the people a little riled up. That's always sort of tough when people don't realize the humor in things. It also makes my job difficult when games kick off at 11 am. I try to shoot for four or five hours. So for me personally trying to get up at 5 or 6 am and getting there by 7 when not a lot of people are out there, that makes it difficult. People are loud when they are painted. As far as interviewing people I try to find good looking girls, older people, younger people. I try to get a good mix. I don't have too many problems with people who are not good on camera because I have a lot of people to choose from. But there are those people where the interview goes nowhere or people interrupt when I am shooting and start yelling into the camera. That can be funny sometimes but it does get old. I really have to reach to find something that makes the job difficult.
Tailgating Ideas: Your interview style brings a lot of good natured humor to your segments. What group of fans would you say get your self of humor the best and who are others that it is completely lost on?
Dan Rubenstein: West Coast fans generally seem to get my humor the best. I don't know if that is because I have a west coast sense about me, whatever that means. Southern people, I don't know if they get it or don't get it, but they are having such a good time that it doesn't really matter if I am making fun of them or they are making fun of me. Midwest people it is always a little more difficult sometimes. I don't have any specific reason for that. Some places I have been, Iowa or Ohio State, things are a little more gray outside and everyone seems to pick on the Big 10, I don't know. They seem to get really defensive about it. It is a little more difficult in the Midwest for whatever reason. Then again, there are great people in the Midwest too so as to not paint everyone out there like that.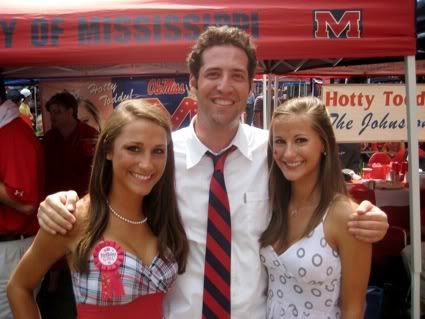 Tailgating Ideas: So for the tailgaters that want to see some serious eye candy, which schools have the hottest co-ed tailgaters?
Dan Rubenstein: It would have to be on a whole, the SEC. As far as specific schools, Ole Miss is where you find the really prim and proper, Southern debutante girls, which is fantastic as far as I am concerned. Ole Miss is great. Alabama is great. Georgia is great. Missouri was surprisingly very good. I was a little bit disappointed in Texas but I was probably just in the wrong place. It's hard to go wrong anywhere in the south.
Tailgating Ideas: So no mention of the Big 10 schools?
Dan Rubenstein: I've been to a lot of places and from what I have seen, there wasn't much at Iowa or Ohio State or Michigan. Maybe all the good looking girls wanted to watch it in HD at home.
Tailgating Ideas: Or maybe it is that they are more covered up being that the weather and the time of year is not conducive to sun dresses in November.
Dan Rubenstein: That could be totally true. And because it is so cold they are drinking hot cocoa and eating bratwursts to warm themselves up, I have no idea. The Big 10, I'll be honest, it didn't strike me to be as fruitful as far as attractive females as the south.
Tailgating Ideas: Who would you say are the most obnoxious and delusional fans that just don't have a firm grasp on reality when it comes to their team?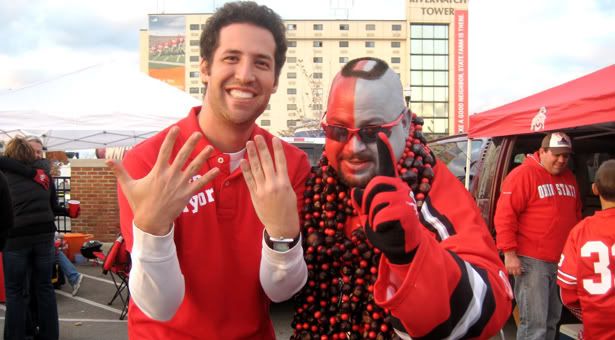 Dan Rubenstein: Ohio State was a little troubling. I got into a couple of arguments with a few Ohio State fans. They told me that if Beanie Wells had played against USC it would have been a different game. I wasn't sure how Beanie Wells would have accounted for 32 points. In the south they obviously take things very seriously and they are very anti any other schools other than southern teams. One of my camera guys, Casey, is talking in favor of the Pacific 10 to these people and he gets in trouble sometimes, but is all in good fun. Alabama people think they can beat USC. Georgia people think they can beat USC. Everyone hates USC. There are a lot of anti west coast people out there and I don't necessarily agree with that.
Tailgating Ideas: I am sure you are familiar with the movie the Bucket List and the concept of putting together a list of places to visit before you die. If you were going to put together a bucket list for college football tailgaters, where are the must see stops on a tailgaters bucket list in your opinion?
Dan Rubenstein: The tailgating area at Ole Miss called The Grove. Its the campus quad that is right by the stadium that is covered in trees. It's everything that is great about The South. Great food, girls, everything. Tennessee is great because you are right there on the river. The Vol Navy is great. In the same breath, Washington is very similar, not on the same scale, but they are right there on Lake Washington. Any Michigan vs. Ohio State game. I went to the one in Ann Arbor, Mich. Just to see the hatred amongst tailgaters tailgating next to each other that was pretty fun. As far as the amount of people, The World's Largest Outdoor Cocktail Party, or whatever they call it now, I'm not allowed to call it that anymore according to the presidents of those schools. It's in Jacksonville and I think the stadium seats about 90,000 and there are probably about 150,000 people outside just tailgating. That's pretty huge.
Tailgating Ideas: It's funny how your bucket list and the bucket list I put together back in February are very similar. On my bucket list, I listed The Grove at Ole Miss but had left off Baton Rouge before an LSU night game. When the LSU fans read that they went berserk calling me a moron on their message boards, emailing me telling I have no business writing about tailgating, claiming how bad The Grove sucks compared to Baton Rouge, etc. And here you are a guy that has been all over the college football map and you mentioned The Grove and did not say an LSU game.
Dan Rubenstein: I think what happened with LSU was that I did not go to a night game at LSU. For some reason it was a "TBA" game start time against South Carolina last year. It was announced as a 3:30 pm game. LSU is fantastic. I don't know if it is fantastic as a place to go just because it is LSU but the people there are ridiculous. They blast 80's music inexplicably which is sort of fun in its own way. As far as just pure food, yeah, LSU has to be up there. I am sure a night game would be ridiculous. I just happened to go for a day game and it was in a driving rain. My own personal experience wasn't fantastic but that's not the fault of the fine people of Baton Rouge.
Tailgating Ideas: You not only do college football, which is kind of in your wheelhouse, but you have also done videos from the College World Series in Omaha, The North American Collegiate Eating Championship, the U.S. Olympic Trials. What other types of tailgates would you suggest people should attend that are outside of the college football realm?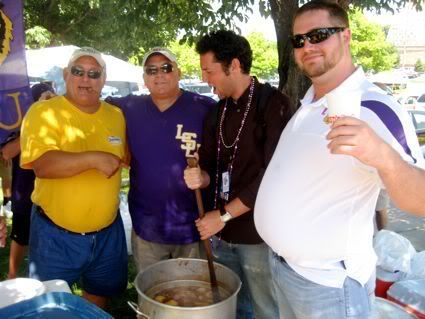 Dan Rubenstein: As you mentioned, the College World Series was surprisingly great. You have all the fans from all the schools tailgating. So you have LSU fans cooking their gumbo and you had North Carolina fans making pulled pork. It was this huge melting pot. Normally in college football you only get two fan bases. I did other episodes at the Ultimate Frisbee Championships and I went to the Frozen Four. But there weren't that many people tailgating. It was more people just hanging out outside that I could talk to. I've been to a Nascar race and I think it would be really fun to shoot there although it is somewhat of a crossover with college football fans. The Nascar race is unbelievable because you are getting well over 100,000 fans so that is something I would like to do in the future.
Tailgating Ideas: Can we expect to see a return of the SI Tour Guy next college football season in 2009?
Dan Rubenstein: I hope so. I am sort of figuring things out right now. I know from my end I am very grateful for SI and would love to keep doing videos for them. From everything I have heard from their end they really like the episodes and the videos. Right now we are sort of figuring it out and you should know sooner rather than later. Hopefully something can be worked out and we can keep going.
httpv://www.youtube.com/watch?v=nLanlumYn98
To see videos of Dan interviewing tailgaters, visit the SI Tour guy section on TailgatingIdeas.com or the SI Video channel on YouTube.