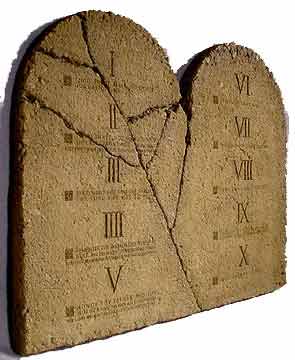 The question almost always arises, "Are there rules for tailgating?". The answer is quite simple: Yes and No. Stick with me on this. There are no official rules for tailgating (other than those restrictions in place by your local stadium, i.e. no glass bottles.) but there are a few guidelines that even the amateur tailgater should live by. Although we at TailgatingIdeas.com are not overly religious, we did take a little literary licence with the biblical 10 Commandments. When tailgating, please try to adhere to and follow TailgatingIdeas.com's "10 Commandments of Tailgating".

1. Thou shall always bring more food and drink than you intend to consume.
2. 'Tis the duty of all tailgaters to be kind, hospitable and courteous to your fellow tailgater without regard to race, religion or sports team affiliation.
3. Inclement weather should never discourage thou from tailgating no matter how cold or rainy it is.
4. Thou shall always offer food and (non-alcoholic) beverages to parking lot police officers to endear yourself to them for later.
5. Thou shall always keep the griller of the meat happy with frequent beer refills.
6. Thou shall plan ahead, arrive early and stay late.
7. No cooler is too big nor does any grill have too many BTU's.
8. Thou shall visit the port-o-potty as soon as one parks to elongate the time period before 'breaking the seal'.
9. Thou shall never run out of ice
10. Eat, drink and be merry tailgating.
Care to elaborate on this list? Is there something missing? Leave a comment and over time we will adjust these 10 Commandments of Tailgating until they are undisputed and renowned the world over.